This post may contain affiliate links or sponsored content. This means that I may receive compensation for reviews, clicks, and purchases at no additional cost to you. I only recommend products or services that I trust and believe will be good for my readers. As an Amazon Associate I earn from qualifying purchases. For more information, see my disclosures and cookie policy.
When I look back on my 10 years of homeschooling, I often tell people that 2013-2014 was our best year. It was a turning point for our homeschooling journey, and for our lives, in so many ways. What could have been a wasted school year was saved by finding what was truly the best fit for us at the moment.
It Starts With the Search
Sometime every April or May, after recovering from my annual homeschool meltdown, I start dreaming and scheming about the next school year. I look at what worked best and what didn't catch on, and I begin to comb blogs and Facebook groups, Pinterest and Google looking for the next best thing.
While doing that search in the spring of 2013, I discovered a curriculum called Trail Guide to Learning. The idea of an almost-all-in-one curriculum (math is not included) with a history focus intrigued me. My kids and I had been going deep in science for a few years and we were burning out. A curiosity about history began leading us in a new direction and the Trail Guide titles seemed to be what we were looking for. When I saw that the publisher, Geography Matters, was going to be represented at a nearly-local homeschool conference, I wanted to visit so that I could see the books for myself.
There's something about cracking open a textbook or a workbook and being able to see the pages laid out before you that can make the choice easier, isn't there? Either you look at it and imagine your family using it, or you may immediately see that it's not going to work for their learning styles.
For my kids, it was an instant match. When my oldest son approached the Geography Matters table and saw the books laid out for the Paths of Exploration volumes of the Trail Guide to Learning series, his eyes lit up! 1911 Boy Scout Handbook? Sold! It was the more hands-on aspects of the package that appealed to my daughter. Eat Your Way Around the World and the RealEarth Globe Map were too appealing for her to pass up.
Of course, Mom and Dad had to be a little more discerning. We wanted to know just how the Trail Guide to Learning series worked.
What Is A Trail Guide To Learning?
There are 4 collections in the Trail Guide series:
Paths of Exploration
Paths of Settlement
Paths of Progress
Journeys Through the Ancient World
You can read more about what each step covers here: https://home-school-curriculum.com/pages/trail-guide-to-learning
In short, each collection has as its backbone a comprehensive curriculum covering history, science, and language arts (spelling, vocabulary, reading, writing). The only subject you need to add is math! The "Teacher's Guide" takes you through the day-by-day of what to cover, and the students follow along in their student notebooks. The curriculum guides you through novels – living books – that give your family a peek into history that you just can't get from a textbook. The language arts and science lessons are pulled from the reading of the novels, and it is all tied together in each unit's "Steps for Thinking" that you examine and review as you go along.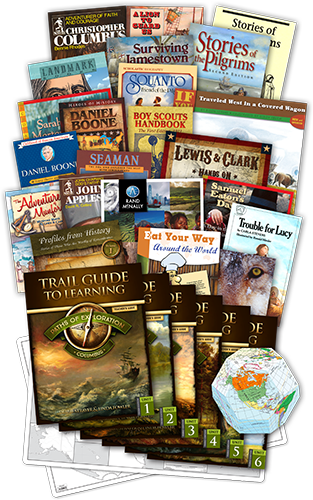 And So We Made Our Plan
Seeing Daniel Boone, Johnny Appleseed, Abigail Adams, George Washington Carver, and the Wright Brothers among the figures to be studied in the progression of this series really sold me on giving it a try. We decided to start with the first step and purchased Paths of Exploration at the homeschool conference. I was so thrilled to get my box of books in the mail, and even more thrilled to see that there was so little prep work for me to do! I had opted for the digital copies of the student workbooks, so other than some printing and looking over what was coming for science, there was little else to do until I sat right down with the kids and dug in. We started in August, and soon settled into a beautiful routine in our homeschool year (2nd and 4th grades).
But Life Had Other Plans
In November of 2013, my mom was diagnosed with lung cancer. To say this turned our life upside down is an understatement. The worry and stress distracted me from being able to focus on catching up with my children's lessons in the evenings. Once my mother's chemotherapy started, her system didn't react very well. Our winter months were punctuated with frequent trips across 4 states so that I could help with her care and, of course, simply spend precious time with her. I made most of those trips on my own. This meant leaving the kids home with my husband who worked out of his home office for a good part of the beginning of 2014. I wish I could say the school year had all sorts of happy endings, but my mother lost her courageous battle early that summer and, to be honest, what held my little family together was a lot of shared reading.
We Had A Trail Guide Through Tough Times
I didn't know what an impact Paths of Exploration was going to have on us at the time I chose it. I was just excited that the kids had actually bought into our choice with such enthusiasm. I had never really believed in all-in-one curriculums, but my experience with Trail Guide To Learning changed my mind. It is so well-written and adjusted for various levels of students that it really can work for so many families.
My mind was put at ease when I had to travel knowing that the kids could follow along in their book together, taking turns reading and helping answer questions, without much intervention from me. To be sure, things were better when we could all work together. Yet it was nice coming home to their excited chatter about all that they'd learned in my absence.
My daughter recently said, "I still remember so much of what we learned about all those people." I can see from their writing and composition, too, that they've retained spelling and vocabulary we covered in that year.
On a personal note, there was something profound in curling up on the couch with my children and reading together about the struggles of the earliest settlers as we faced our toughest season as a family. There was, of course, illness and death in this new land. And there was progress and triumph. Whether it was the Jamestown settlement, or the Lewis and Clark expedition, there was hope through the most difficult of times that helped lighten our own hearts as we read along.
And So Our Worst Year Is Remembered As Our Best
I think I consider our year in Trail Guide to Learning's Paths of Exploration to be our best year of homeschooling because we all learned so much together. It gave me a new appreciation for biographies and literature with a history focus. I also learned to let my children take more ownership of their work. The curriculum was laid out well enough for them to follow, even when I had to step back more than I wanted.
Even if the themes of the literature hadn't matched so well to our stage in life, I still think this curriculum would have been a total win for us. I had been in a bit of a scattered state trying to mix and match all sorts of resources, and I was getting burned out. These books grounded me again, and gave us a new jumping off point for the years that followed.
The Path Diverged
I've specifically addressed Paths of Exploration here because, honestly, that's the only curriculum we used in full in this series. I'm actually a little sad about that, and I hope to pick up the Paths again when my youngest is in elementary school. But my oldest at the time was struggling with writing so much that his student notebook pages ended up mostly blank. He learned a ton, and taught me everything I missed while I was on the road, but he just couldn't express it on paper.
So instead of investing in the entire packages the following years, I purchased the novels that went with the Paths of Settlement and Paths of Progress steps. We read those as our history and literature components, and I went back to piecing together helps for writing in our homeschool. It has worked out well for us, and in 2018, we found ourselves in the companionship of a great Trail Guide again… this one to World Geography!  (Check out my list of what we're using this year!)
VisitGeography Matters at https://home-school-curriculum.com/ and pick up a Trail Guide to help you on your way to what I hope can be your best homeschool year too!
You might also like...
Sometimes, the best way to get learning to stick is to weave it into something your kids are interested in. Like a movie. To be honest, I'm excited about this movie too. Once I saw the trailer and put the release date on my calendar, I giddily started searching for…

When you think of core subjects in your homeschool, what comes to mind? For most, it's the full suite of math, English, science, history, and some electives. But if you're getting bogged down in all of that planning and keeping up with all of those subjects, maybe it's time to…

Much of the world is struggling to manage education at home right now as the Coronavirus continues to disrupt business as usual. Just how do you work from home while homeschooling? Julie Mendez of WorkingWhileHomeschooling.com shares her secrets from years of experience doing just that! Tips and Links from…